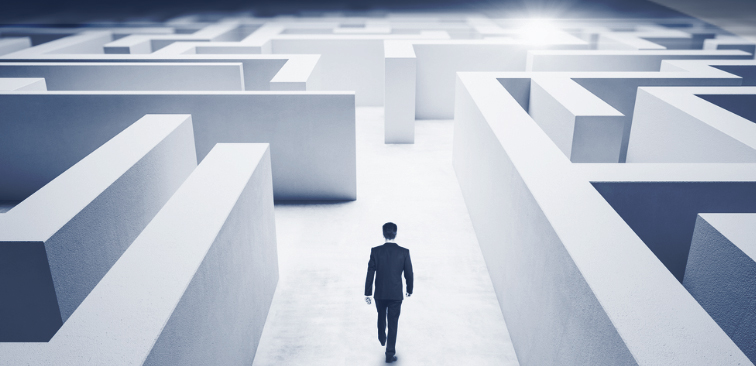 4 signals saying that it is time to change your business model
You have put a lot of effort, including capital, into developing your businesses. Changing your business model can be a difficult decision to make. However, it must be remembered that customer needs evolve and markets change. In particular, the last three years have significantly affected economies worldwide. Many changes were short-lived, while others have permanently changed social behaviour and the situation in the world. Thus, persisting in the past can be a slow process towards bankruptcy. 
Here are some signals allowing you to diagnose that it is time to take strategic action aimed at changing your business model. 
Customer churn, lack of a sufficiently large group of recipients 
If you feel like you have not reached your target audience for some time, it means it is high time you changed something. You may be talking to the wrong customer. Or maybe the problem you're trying to solve doesn't really exist, or the recipient group is far too small.
The question is, have you defined the problem correctly? Is it a real issue that a sufficiently large group of customers wants to solve so that your business could move forward and scale up?
It is important to distinguish your feelings from the data. As well as a trend from a trendy topic. Trendy topics last for a short time and are related to temporary fashion and a trend is a forthcoming and long-lasting change which becomes reinforced in a longer perspective and develops into a bigger group of recipients.
If your customers are departing, find out why. Analyse the data, establish customer relationships and ask them to rate your product and service. Check if you are creating value. Confirm whether it's a matter of competition or your organization's ability to retain and win customers. Maybe the demand for your product or service has just run out, and the problem you are addressing is no longer important enough to find a large enough audience and allow you to further scale up your business.
Whatever the reason, if you're not attracting enough consumers to keep your business afloat, you need to consider changing your business model so that it could be more attractive to the target group of recipients.
In the current economy of experience, you need to understand customer needs and expectations and the way in which they evolve. Never cease to surprise them; present them with a qualitative value proposition. If you are not willing to evolve, your solution will become irrelevant very quickly. Define indicators and analyse data that will provide you with up-to-date information about the scale of the market and the scale of the recipient group which can afford to purchase your solution. A helpful and popular template which assists in accurate identification of the problem, based on customers' needs, is business model canvas.
Your business is not growing 
The lack of business growth is a reason for a quick reaction, and perhaps also a change in the business model. Is it time to take key actions and ask important questions of what the stagnation or decline in business stems from?
Is a temporary market turmoil the reason?
Or maybe it stems from an operational failure of the organization?
Do the sales work properly and what are the results?
Is the communication appropriate for your target group? What results does it bring?
Are your distribution channels appropriate?
What are the results – is there an increase in profits and return on equity?
If by asking these questions an answer is found and you come to the conclusion that you have a sufficiently large number of recipients, it is time to develop or organize a strategy, communication and set tactical action plans and implement them. However, if these are not the reasons and you feel that you have hit the ceiling, it is time to change the business model.
At the moment when you feel pressure and the company is shrinking and this is not the intended action, you need to change your bearing. Make the necessary changes, consider which markets are prospective. Investigate what information you have about your customers or collect it. Discover new trends (niches) that will start to significantly expand in the future.
Investigating more profitable markets, while your business still has positive results but the aforementioned "ceiling" has been defined, is comfortable inasmuch that you can make a change of direction gradually. Implementation of a new product or launch of a new market without loss for the business. Then allocate key resources for activities aimed at implementing the new business model of the company. When you verify that this is the right direction, then redirect the company's operations to this segment.
When a lockdown was imposed during COVID-19 in 2020, many companies were forced to quickly reanalyse business models. As a result, they discovered markets that they had not noticed before, or had not felt the need to explore so quickly. Thanks to this, today they have stronger business lines, e.g. based on traditional and online sales. Others conduct courses not only offline, but also online. At restaurants that were temporarily closed, delicacies of the same name were created along with the delivery of semi-finished products or ready meals to indicated addresses. This time forced us to create a real value which customers could afford. An effective model was created because at that time business owners were focused on the actual problem of the customer and on providing them with value.
Do not wait for a crisis to understand that your market is shrinking and another one with a much larger perspective is developing right next to it. If scaling up is difficult or almost impossible, your business will not be able to develop. In this case, you need to find a way to recover your time and explore more profitable markets. You should always be able to identify where in your business model there is room for growth.
Lack of concentration in business and clear market definition
Who is the brand intended for? What makes it distinctive and what do customers pay for? If a business lacks a clear set of goals and a focus on a given group, it's easy to get lost in chaos. If you try to reach everyone, then your products or services become useless. Values are not clear and lose their uniqueness. What really matters is to define the purpose of your offer as much as possible basing on the knowledge about the needs of the selected group. Such concentrated positioning often involves a change in the business model.
You can achieve this by analysing the data of previous sales and customer behaviour in your communication and sales channels. You can also resort to market data. On this basis, you will define those groups and their characteristics that bring you measurable benefits, and whatever doesn't work or performs worse should be erased. It may turn out that you identify two extreme groups with equally strong potential. If you have sufficient resources, then consider whether it is worth dedicating separate brands to them.
Changes in the industry
If the industry in which you operate is undergoing revolutionary changes, you may not be able to influence it – especially if they are progressing quickly. And you have limited capital for keeping up with the new trend. Such a situation may be a signal for a change in the business model. These changes may also be dictated by changes in the law, the geopolitical situation.
All external factors affecting your market need to be investigated. Usually, industry regulations are discussed earlier. If changes are coming, do not wait until the last minute. Remember that in order to see the impact of some changes on your business, it is important to keep your distance. Your role is to follow trends and find a place for "what if" scenario discussions. You can also use advisors from outside, for example, create an advisors' board following the example of supervisory boards (this is a good example of skilful managing, which is increasingly common).
A discussion like this should have been held by each of the companies selling their services and products on the Internet just after the entities that had not previously used this sales channel or treated it as a secondary solution moved to the Internet in 2020. Many companies missed the impact of this wave. They recorded revenue increases owing to their readiness to face lockdown times. However, in 2022 it was not so positive anymore. Their systems turned out to be less efficient than their competitors' newly designed stores. And you have to pay much more for acquiring a customer than before the pandemic. In some cases, the business model adopted before Covid-19 will not defend itself today – it is too expensive, and the group of customers is too small. And yet, the above-mentioned impact of the trend could have been predicted in advance and the curve could have been followed. Diversify business, products, and/or enhance your technological resources.
The way in which we earned our income in previous periods may be unsustainable in subsequent periods. Today, the impact of the market on your business is much greater than it used to be. The entry threshold in many industries keeps decreasing, as does the entry time; technology is becoming more affordable, open or "out of the box".
Finally, remember
As an entrepreneur, you face the important challenge of making a decision to change the course of action, which is related to the evolution of the business model in a timely manner. Each of the companies operating on the market for many years undergoes this process several times. And failure to discern a shifting trend may lead to flops, the cases of which we know from the front pages of newspapers, like e.g., those that befell companies such as Nokia or Polaroid. You will notice most of the signals for change inside the organization, but by narrowing your analysis to the inside, you may miss irreversible trends that will change the fate of the entire industry. I don't have one winning model for the next few decades to come. Therefore, be open to feedback from the market and external experts.
Follow CENTRE.CONSULTING, in the next release we will offer short tips on how to adapt the company to the new reality. From the article you will learn how to operate in a hypervariable environment.
Back to articles