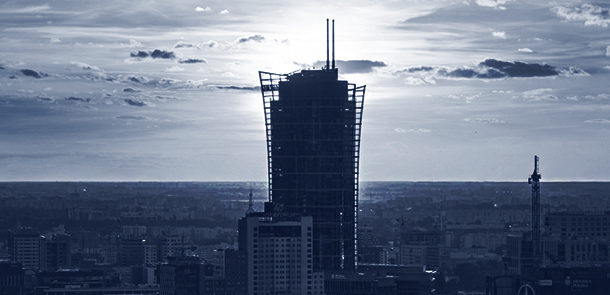 REAL ESTATE IN THE TIMES OF CRISIS
Real estate in the times of crisis The world has gone a bit mad. Stocks are tumbling, the Polish zloty is plummeting. Nobody can estimate how long the markets will be in turmoil. The crisis seems inevitable. Truth to be told, it has been anticipated for a while. That said, no one expected it would be sparked by a novel virus pandemic. Experts predict that multiple industries will be hit by COVID-19, including the Polish property market. However, this can cut both ways. While raising concerns, the current situation may also offer unlimited opportunities. What could be the potential benefits for the Polish real estate market? Let's have a look.
The end of 2019 and the beginning of this year saw record-high transactions on the property market, with prices of apartments gradually reaching the level reported in 2008. It has to be noted, however, that Poles' purchasing power was considerably higher in that period than on the eve of the previous global crisis (in 2008, the price of an apartment was an equivalent of 180 average wages, compared to just 101 today). Also, the Polish market was perceived by foreign investors as a good place to invest. Consequently, property developers were beating records in terms of the number of built apartments. Prices were still lower than in Slovakia, Latvia or the Czech Republic. Flats would sell immediately after construction permits were obtained by property developers; the housing development was at the stage of construction plans, yet clients would hurry to book the apartments. As a result, Poland emerged as a country with the fastest growing prices for apartments in Europe. To say that the market was booming would be an understatement. Suddenly it came to a halt… or, more accurately, it slowed down.

While some watch the situation unfold and wonder what to do next, others decide against buying based on the belief that it is better to have liquid financial means at hand, ready to use at any given moment. Another group chooses to buy faster before hyperinflation kicks in. Those who stick to cash are warned by experts of an imminent currency depreciation. Briefly, the market is going to be busy for a while…


Property rental, an income booster

Looking at how each crisis that had shaken the world played out, it is easy to see that owning real estate is a stable investment of capital compared to investments in other, more volatile industries. It has always been and still is. A property can be used as a shield against hyperinflation. That said, our approach to investing in real estate should be different from what it was just a couple of months ago. Buying property is now a long-term investment expected to generate profit after several years. You may have to wait longer to sell the apartment at an expected, higher price. Importantly, a crisis like that generates opportunities. They are naturally emerging during an economic slowdown when clients are struggling. At the same time, a weakening zloty attracts investors from abroad. They are more likely to invest in property here than on other markets.


Another factor that allows us to see investments in real estate and the condition of the industry in positive light is the fact that nearly 75 percent of apartments were bought for cash last year, without credit, according to data from the report AMRON-SARFiN 4/2019. Those who can will wait the crisis out and, following in the footsteps of many other Poles, start renting their apartments out. Without a doubt, investing in an apartment offers an option often unavailable in other types of investment, i.e. the possibility of earning a passive rental income. On top of that, property rental is more profitable than bank deposits. The real estate market offers a variety of investment models for clients with limited available funds. This particular model is easy to learn, it is hardly rocket science. It is easier to buy one apartment or more for rent, or invest in a small or large housing development, than to invest on the stock market or trade in currencies. Not to mention investing in companies. The property market offers the investor stability, coupled with the opportunity to earn passive income. This will not change.


Hand in hand with a credit advisor

The crisis bringing businesses to a standstill will result in higher unemployment while triggering use of mortgage collaterals. Therefore, it is advisable to make friends with a credit advisor. Well up on their client's situation, they will know what information to seek and how to find the best deals. Those who can quickly release the funds and decide to buy a property will be in the winning position. Flippers, i.e. investors quickly buying property to resell it after a short time, will become active. Only a few years ago, flipping on the real estate market in Poland was a rare thing. Since then, we have learnt how to generate business based on this investment model.
Higher unemployment figures are a glimmer of hope for property developers struggling with very high construction costs and labour shortage. They will buy unfinished investments from those who miscalculated their resources and whose business models ceased to work. Finishing such projects after acquisition could turn out to be much cheaper than what it was at the end of 2019 and the beginning of this year.


Real estate investments to make a comeback

Summing it all up, the real estate market's initial response will most likely be a decline in trading. Temporarily pulling the plug on funding or withdrawal of renovation crews from the construction sites can slow down implementation of property development projects. This, in turn, will result in fewer new offers on the primary market, which in certain cases can force a property developer to sell its project – an opportunity some are already waiting for.

In my opinion, the entire system of short- and long-term property rentals, the number of investment models available to inexperienced investors and the emerging opportunities will put the property market back on investors' map as offering the most stable capital investment opportunities.

By: Dorota Sajewicz, CEO/co-founder of BE THERE company representing investors and firms during capital acquisition and sale/purchase transactions.
Back to articles